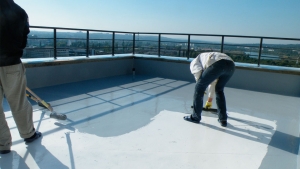 We could all use a little extra space. If your home or business fits a certain design scheme, choosing flat roofing may be an ideal solution. At Lewis Walker Roofing, we offer a variety of different service options for clients looking for an easy roof addition to their homes. With a flat roofing installation, you will have a sturdy and reliable setup that delivers a number of additional benefits. Call today to request an estimate for any of our services.
A Complete Flat Roofing Installation
All homes are different, which means they all have their own unique sets of needs. When you are looking for a new roofing installation at your location, you have many options to consider. From asphalt to metal, our contractors are available to take on services for every material on the market today.
Why choose a flat roofing setup at your location? Our installation process gives you a reliable setup that can help you reduce your energy costs over time. With a new roof, you will add a distinctive touch to your space while you save money and add functional space.
Our Flat Roofing Contractor Creates Extra Space
Space is at a premium for every home and business owner. By working with our contractors for your new flat roofing setup, you will create a spacious atmosphere for your specific structure. Today, many warehouses and other commercial buildings use a flat roof to increase the amount of space available to them.
With our flat roofing services, you will have the freedom to incorporate a versatile style of roofing into homes of every size. This unique alternative to sloped and beveled roofing enhances the architectural style of your space, making your home stand out for all of the right reasons. You are free to use your extra space for everything from storage of a comfort system to creating a great entertainment spot for friends and family.
Flat Roofing Repair: Fixing Every Issue
Like other roofing systems, a flat roof will start to show signs of aging over time. Fix every issue facing your setup when you turn to our team for your flat roofing repair needs. Our experienced contractors are ready to get to work to make your system function like new again. We focus on the details to deliver the proper level of care for your specific roofing system.